Genuine Coral Jewelry
Coral jewelry has a timeless appeal, and is more popular than ever today. It's really our specialty and one of our favorite types of jewelry. The demand for coral continues to grow despite new trade and harvesting regulations. All of our coral jewelry is vintage and has been in the U.S. for many years. Coral is an organic gemstone and unfortunately, coral reefs are endangered. They are threatened by warming ocean waters, harmful bacteria, pollution, and destructive fishing methods. Unfortunately the jewelry industry sometimes gets blamed for the diminishing supplies, and more restrictions are being put on harvesting it. Fine coral jewelry is getting rarer and more expensive all the time.
The prices have tripled in the last 5 years. You can think of buying coral like an investment, the price of coral jewelry will go up, because the supply is very limited. The premier coral on the market is still "oxblood" red coral which is from the species Corallium. Most of it is harvested in the deep waters of the Mediterranean, and then polished and cut in Italy or Japan. Pink or Angel skin coral is always popular and commands a high price too.
Coral's relative softness is one reason it has always been popular for jewelry. It is easy to carve and polish to a glossy sheen. In addition to beads, you will often find it carved into cameos, fruit and flowers. There is no limit, except the jeweler's imagination.
We have some pieces that are from the Victorian era to the more recent past. We try and carry a great variety of styles and colors, and of course every spectrum of red. See our coral jewelry that is for sale.
Antique Coral Jewelry
Coral Jewelry was very popular in the nineteenth century. It was a tradition for children to wear coral necklaces and it was thought to ward off diseases, illnesses, and evil spirits and danger. The Europeans in the Victorian era thought coral had curative and protective powers. It was a favorite christening present for the Victorians. That is why you will often find antique necklaces and bracelets in small sizes. Naples, Italy became the central source for coral and most of the expert carvers and jewelers were from Italy. They carved it in many shapes, flowers, charms and beads. They were often used in cameos and brooches. The dark red and orange red colors were the most plentiful. Here are a few lovely samples.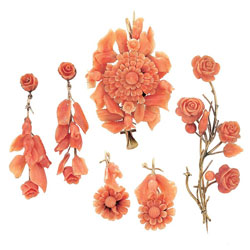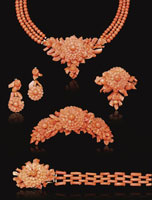 Turn of the Century Jewelry
Chokers, chatelaines, lavalieres, earrings, feathers and festoons were all the rage and very fashionable. Coral was still found on brooches, cameos and all types of jewelry. Coral was used more in its natural branch form.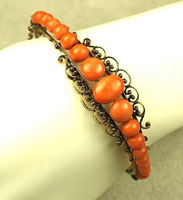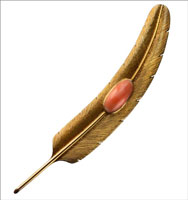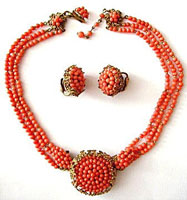 Art Deco Jewelry
Many varied influences worked together to produce the style called Art Deco. Egyptian, geometric and modernist designs take the place of flowers and fleur-de-lis. There were sleek smooth surfaces and clean lines. Many natural materials were popular such as, ivory, jade, onyx, amber, coral and gemstones, especially in bold colors. Coral was still found on brooches, cameos and all types of jewelry. Coral was intricately carved and also used more in its natural branch form.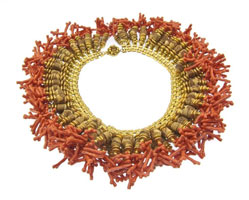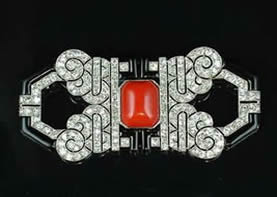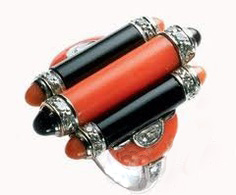 Mid-Century Modern Jewelry
The 1950's were a time of rebuilding and renewal after WWII. Americans were inceasingly affluent and style savvy, they looked to Hollywood starlets for fashion styles and designs. It was a decade of timeless styles, focusing on a glamorous lifestyle. Rhinestones were added in to add extra glamour and embellishments. The Coral was often intricately carved and also used more in its natural branch form.
1970's Mosaic Coral Jewelry
In the 1970's coral jewelery and beads were being manufactured in the Philippines. They made very interesting handcrafted jewelry mixed with exotic shells, woods and natural materials. The designs were colorful and bold and often required expert craftsmanship. The most popular corals used were sponge corals that were red, white and blue denim. The white corals were often dyed in pastel colors, Exotic sponge corals like apple and tiger were also very popular. They made intricate mosaic pieces in both geometric and figural designs. Some of the most collectible pieces made were lions, florals and other sea creatures. The designs often were stabilized with resin and backed with plastics. They are true works of art and such hand craftsmanship is difficult to find now. Lee Sands was one designer who manufactured this type of jewelry in the Phillipines.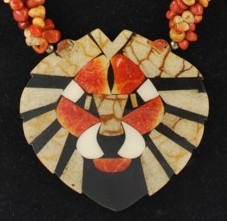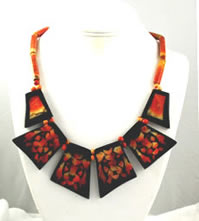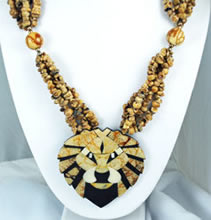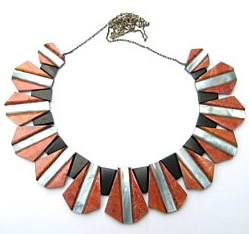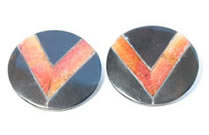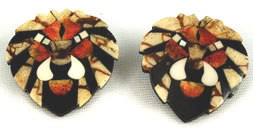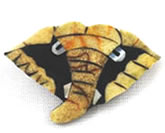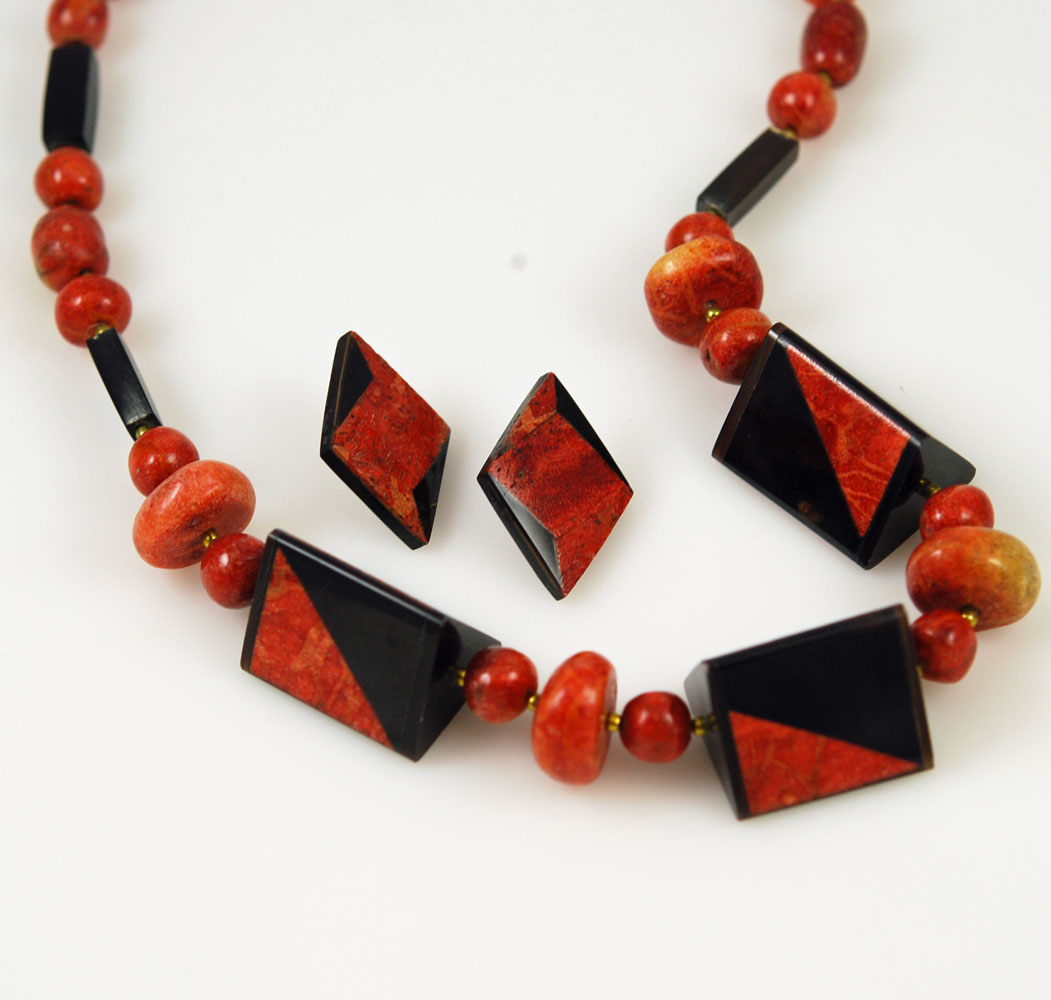 Native American & Southwestern Coral Jewelry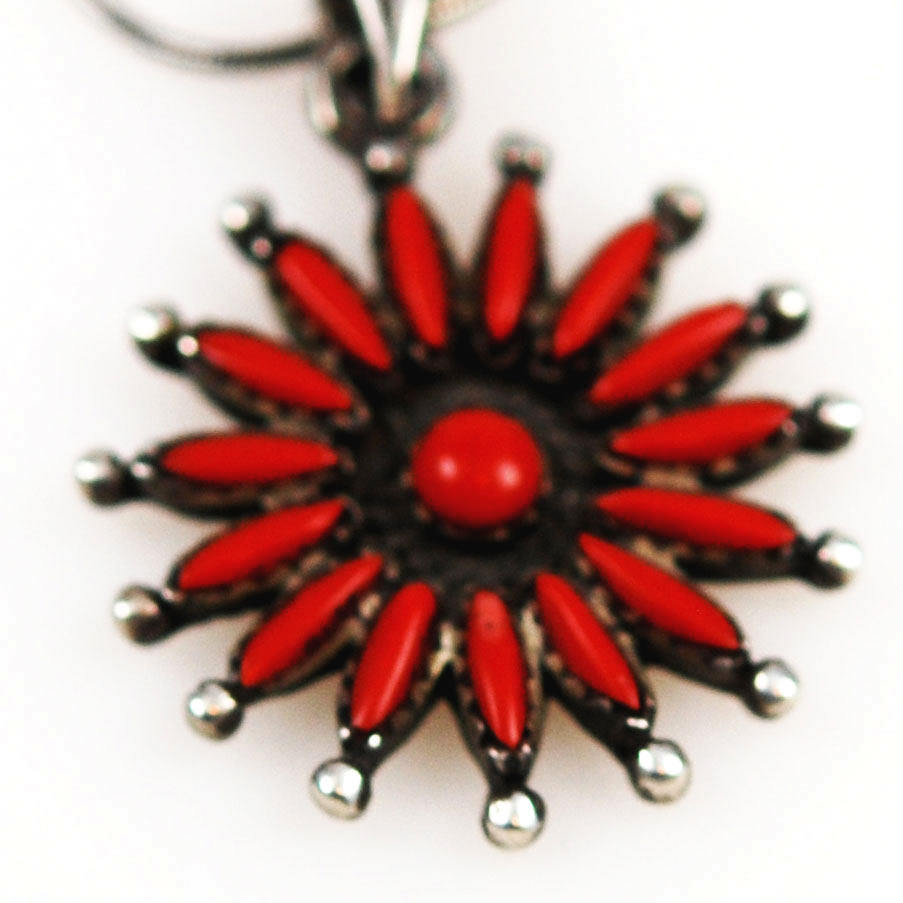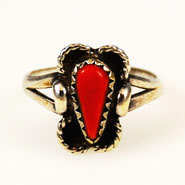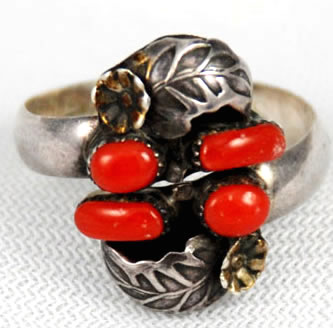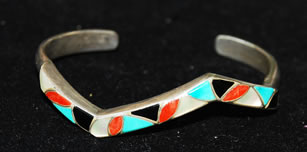 When Europeans arrived in the New World, they brought with them "blood coral" from the waters of Spain and Italy. The dark red coral quickly became a favorite of the Native Americans and was incorporated into many of their designs. Coral is often called "red gold" by some artists and symbolizes success and social prominence. It is rare to find any other color of coral used in Native American jewelry. Santo Domingo peoples first used coral beads in necklaces, as wampum (trade beads). The Hopi and Zuni strung coral beads alternating with other beads such as jet, turquoise and spiny oyster for dances and ceremonies. They preferred the heishe or rondelle shaped beads. Later the Navajo began cutting coral to inlay in their beautiful silver designs on rings, conchos, bracelets, pendants, buckles, and bolos. In the late 1940's the Navajo started polishing and drilling the long branches and stringing those and the round beads into necklaces. These necklaces were often finshed with silver cones and handmade hook clasps. The coral beads were sometimes incorporated into necklaces with turquoise and benchmade silver beads. The combination of turquoise and red coral is very striking and has become one of the Navajo's most quintessential designs. The Zuni Indians are known to be exceptional Lapidary craftsmen and also used red coral in their intricate mosaics and designs. They are famous for cutting gemstones into needle shaped cabochons and these designs are known as Needlepoint. Zuni Pueblo is the largest pueblo in New Mexico, and because of its location, Zuni is the most traditional. Continuing to make jewelry, fetishes, and pottery, most of the people of Zuni are still artists. The first photo is a classic example of one of the Zuni's needlepoint designs using red coral.